My favorites: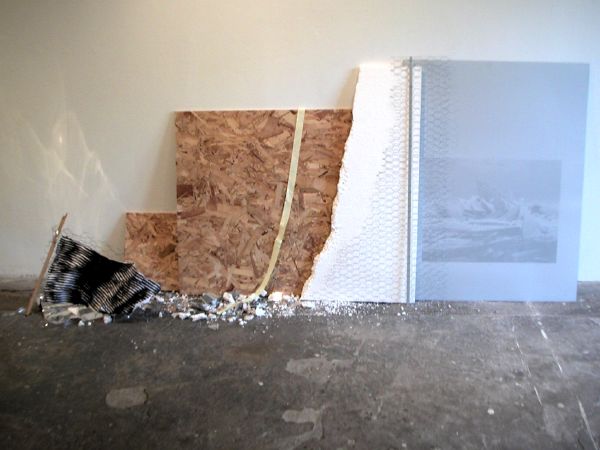 Claudia Weber at Momenta Art, installation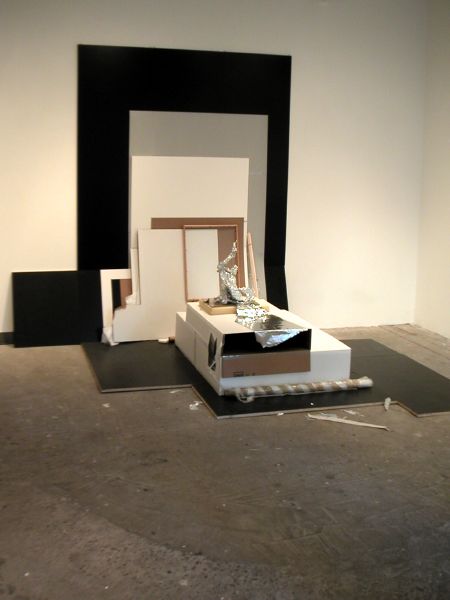 Claudia Weber at Momenta Art, large detail of installation
Claudia Weber at Momenta. Quoting from the press release:
Claudia Weber's work presented at Momenta began with a photograph that the artist took at a construction site. The photograph, optically stark and ostensibly formal, records the transformation that took place when a classical balustrade received an unceremonious backdrop of a sheet of particle-board. Riffing off of this image, the artist re-contextualizes two other cultural forms from vastly different sources: a pre-fabricated bookcase and a heavily reproduced painting by the German Romantic Caspar David Friedrich.
She uses simple materials like Styrofoam, aluminum foil, wood, and wire to create these sculptural installations. We talked with a friend along for the ride about the use of such materials in sculpture. As we walked around a rapidly changing neighborhood like Williamsburg, we saw bits of these same materials scattered about, but to create a moving work of art out of them seems more of a leap than what is accomplished using a medium like paint or marble. I'm not arguing that this makes her more of an artist, but I think people are more prepared to view a painting as "art" than they are an installation of what appears to be torn up construction detritus. I loved it.
At 31 Grand, my favorite work was actually in the back -- some drawings by Carol "Riot" Kane, and a couple of collaged soldiers by Michael Cambre.
Le Petit Prince at AG Gallery. This gallery, in the back of a cool store, has had several great shows, and given that the store hours are later than most galleries, makes a great stop at the end of the day, before or after dinner at Relish. My favorite works in the show are the paintings of Christopher Reiger, and the "Action Painting" video by Ryouga Katsuma, which is one of my favorite videos of the year so far. His paintings and drawings are good too. There is a "Valentine's Eve Afternoon Tea Party" at the gallery with sweets and tea on Sunday, February 13th from 3-5pm.
Eric Hollender's works on paper at Dam, Stuhltrager. He uses silkscreens as if they were brushes or stamps to create compelling images of the competitive pigeon flocks of Williamsburg.
The wall drawings by Brynna K. Tucker in the Confluence show at Open Ground were my favorite works of that show.
There was a lot of good work in the Buy It Now show at Black and White, but the show is over now. There are some images on the web site, including the press release page. I liked all of the work, but the video by Danielle LaPlante and the Photoshopped images of Saraw Sweeney really stood out.
[images from James Wagner]